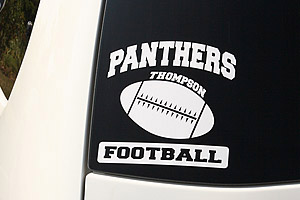 Spirit Decals or Car Window Decals are a 5 yr rated, 100% solid vinyl sticker that goes on the outside of your rear car window. Takes only minutes to install, yet can be easily removed later.
We have a large selection of sports decals or we can design a custom decal for your league or team. The more you buy, the cheaper they are so they make good team fundraising idea. Now you can "Show Your PRIDE While You RIDE"
Vinyl Lettering
Need some vinyl letters for your mailbox, address, vehicle, locker, sign or other project? This is what you need. You can specify one character or thousands also pick the colors and fonts used.
Advertise your website or business on your vehicle! What better way to use your vehicle to help your business? Custom lettering on windshield banners or rear-window signs! Or, how about a custom decal or sticker to give or sell to friends, family, customers? Let us help you get your name out there!
Need to dress up your car, boat, ATV, snowmobile? Want some cool vinyl decals for a Jet-ski? Stock Car? Dragster? Browse through our HUGE graphics library for some interesting logos and graphics, or provide your own graphic for a customized vinyl decal! Decals can be made on magnetic material too, so you can take it with you when you sell your car! We can even do multi-color decals, with some limitations. Please inquire! WE OFFER FULL-COLOR DIGITAL PRINTING! Ask about small detailed text labels, warning labels, multi-colored decals, even photo-quality* stickers! We can also print bumper stickers and much more!
Vehicle lettering and window vinyl
Auto and vehicle windows come alive with the design of your choice. Front and rear windows can become valuable advertising space for your business vehicles. Or design attractive window decals for your personal vehicle's windows. Vinyl goes great on anything, not just windows!
2 Hot Chics offers full-scale design and production services featuring graphics suitable for application to any glass surface or window. Vinyl graphics are produced by cutting your design out of a sheet of colored vinyl material. Unlike a plain, flat bumper sticker, these beautiful graphics are individually cut and pre-spaced. They are self-adhesive, come ready-to-apply, and are very easy to handle.
Storefront graphics can enhance your business appearance to potential customers with news of sales, store hours, descriptive words, or your company logo. Door graphics are essential to drawing customers into a retail or storefront door. Provide information like your business name, address, phone number, product lines, etc. to draw them in!